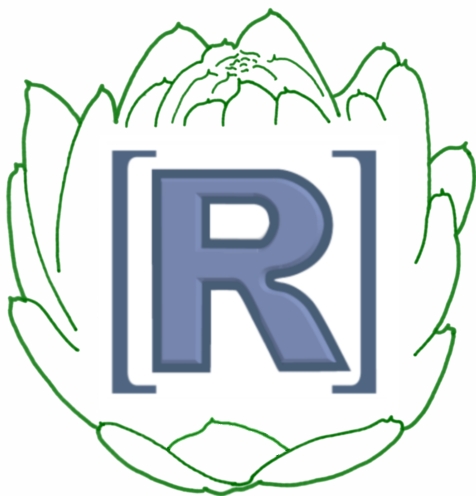 In light of my recent attempt at aRt, Tal from R bloggers suggested I submit a T-shirt design for this contest. That got me thinking that R needs a logo freshining in general, so I dusted off my technical pens and drafted something. I'll explain why I think this makes a good logo for R, but before I defend the "Rtichoke", perhaps you could come up with some of your own reasons why it works? I'll give you a moment….
OK. Here's my justification for the logo:
Like R, an artichoke can be a bit prickly on the outside, but is absolutely delectable on the inside. Getting into R can be the same way.
The structure of an artichoke is layered and complex, yet its design is created with a very limited set of underlying principles.
All programing languages need a mascot. Perl has a camel, PHP has an Elephant, JAVA plays with the coffee connection, Python has… well, you can probably guess.
It includes a part of the old logo, and adds the all important brackets for R.
My submission doesn't quite meet the T-shirt requirement (it's more that one color), but if folks like it I can create a one-color version and submit it properly to the contest and the general R community for considering. Cheers.
UPDATE:
I created an all-blue version so you can get a feel for what it would look like with reduced colors: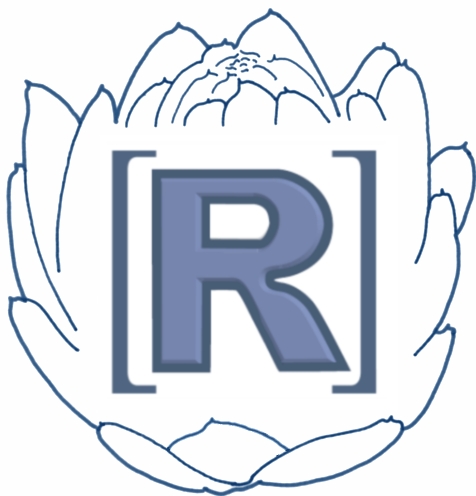 UPDADE 2:
I made the lines a bit bolder and made a minor tweak. I think this is the best "all blue" version yet. Opinions?